I am looking for an interpreter.
・You can look for an interpreter who helps you at Tsurumi Ward Office or schools through the interpreter dispatching systems. →click here
・Contact/apply to Tsurumi International Lounge(Tel: 045-511-5311) or the staff in charge(Tel: 045-664-4665) at Yokohama Association for International Communications and Exchanges(YOKE).
I want to learn Japanese.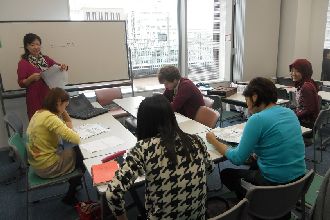 Japanese-language courses for foreign residents are offered at Tsurumi International Lounge by the following organizations:
・Japanese Language Class「Nakama」(Tuesdays)
・Tsurumi Japanese Language Class (Wednesdays)
・Nihongo de Tanoshimu Kai (Thursdays)
・NPO Intercultural Exchange Group "Konnichiwa" (Fridays)
・1.2.3. NIHONGO SHIEN NO KAI (date/time negotiable, private lessons)
Japanese-language courses in Tsurumi Ward (other than the Lounge) are offered by:
・NPO Intercultural Exchange Group "Konnichiwa" (Saturdays)
・Tsurumi International Exchange Group (Saturdays)
For details →Volunteer Japanese Language Detail
→
Volunteer Japanese Language Class Map
Many other Japanese-language classes are offered in Yokohama City:
・Japanese-language classes offered by YOKE →click here
・Database of Japanese-language classes in Yokohama City →click here
I want to find useful information for daily life in my mother tongue.
・Daily-life information through the following list of websites and phone numbers →click here
・Important information/materials to prepare for natural disasters (such as an earthquake) →click here
YOKOHAMA Living Information Guide
This Living Information Guide is edited jointly by Sankei Living Press and the City of Yokohama.
The Guide includes information useful to all citizens of Yokohama such as emergency services, consultation services, administrative services, and other information useful in your daily life. YOKE provides translation in the following languages:
Useful Information Site
Other Information Websites Available in Foreign Languages
Links to Related Organizations and Groups
The International Organizations within the City of Yokohama